4KCBWDAY2
Your task today is to either think of or research a project that embodies that house/animal. It could be a knitting or crochet pattern – either of the animal itself or something that makes you think of the qualities of that house. Alternatively it could be a type or colour of yarn, or a single button. Whatever you choose, decide upon a project and blog about how and why it relates to your house/creature.
You do not have to make this project!
It is simply an exercise in blogging about how you come to decide upon what projects to make. Try and blog about the journey which inspiration and investigating patterns, yarns, stitches, (etc) can often guide you through. You may wish to make a collage or 'mood board' to present several ideas, or even sketch out your own design.
When I think of project ideas involving bees, several things pop into my head...black and yellow, stripes, arigurumi bee, honey, beehive, honeycomb...I think it would be relevant to incorporate at least one of these aspects into a potential project. Usually if I am searching for pattern/project ideas I will go to Ravelry and Pinterest, and see what I can find from there, so that is what I will do for my bee mascot!
Before I search I will rule out that I don't want to crochet arigurumi as it isn't my thing, and I don't really want to do anything with black and yellow or stripes. This leaves me with honey and honeycomb, so these words are what I will use in finding a pattern for my mascot project.
Pinterest Finds
Ravelry Finds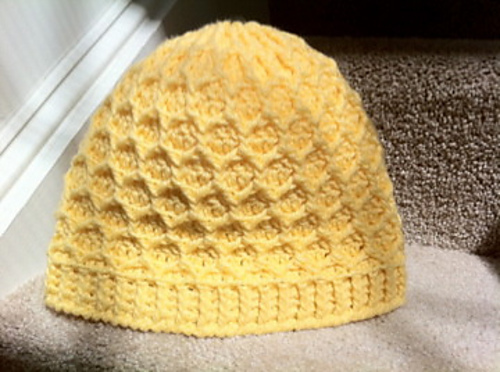 After doing a little search, I don't find anything interesting for 'honey' however honeycomb has more interesting patterns for it. I love the honeycomb beanie that I found on Ravelry, I think that would be an excellent hat for my sister's Christmas as she loves the colour yellow. The honeycomb hexagons fascinate me as well, as I am quite fond of crochet hexagons. I linked the beehive pincushion as I think it is simply adorable!
For my mascot project I would like to make something using the honeycomb lattice stitch, as I think it is a lovely texture! I think it would be a suitable pattern for making a scarf (maybe to go with the beanie above?), or a cushion front. Although it will be in a bright shiny colour, or maybe yellow if it is for my sister he he.
If you would like to find out more about the KCBW, do check out
Eskimimi's
page to find out more details.